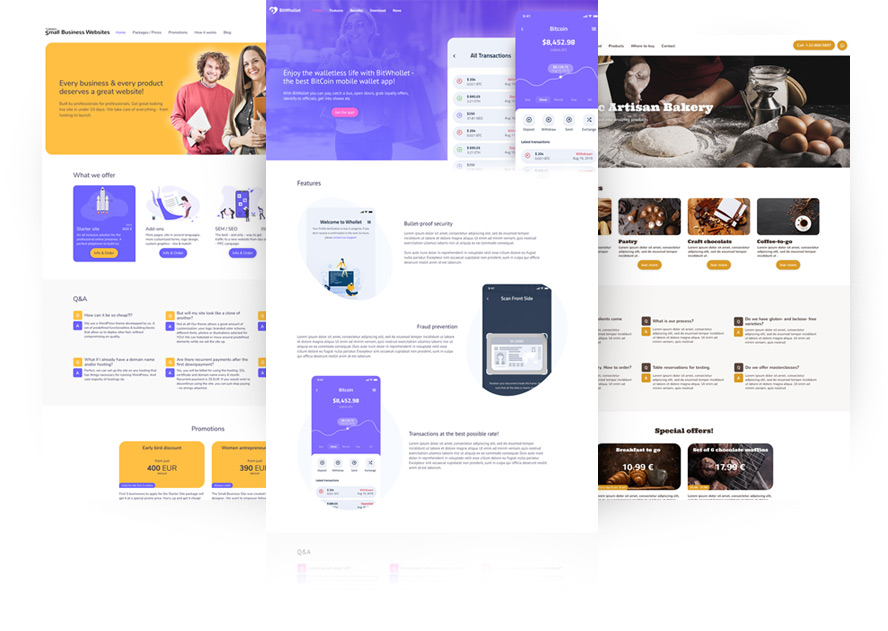 3 stunning design variants
We achieve low costs by using our pre-built Small Business Site WordPress theme that comes in 3 design variants. Choose the variant that fits your business best!
Click to preview each variant or download all 3 in an archive & view on your computer:
Color Blocks Bold Imagery Splash background Download archive
Customization
We deliver great looking, versatile designs by applying the human touch! The design variant you choose will be customized by professional web designer.
Logo, colors, fonts, imagery – all will be carefully crafted to match your brand and amplify your message!
A mock-up of the home page will be shown to you before the project proceeds, so you can request adjustments, if necessary.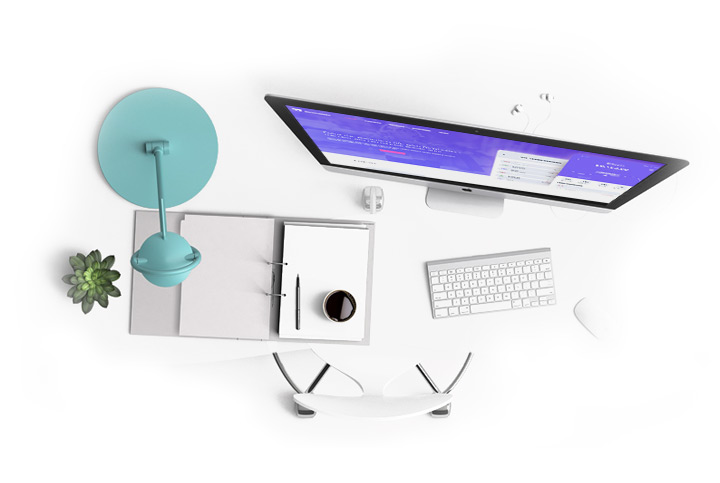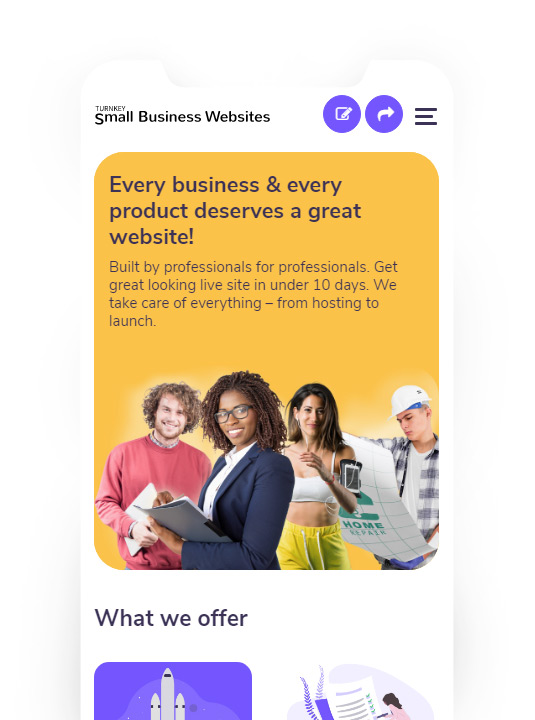 Features galore!
Home page template allows you to: showcase services or products you choose (with prices), explain your business in a Q&A section, brag about client love in testimonials section, grab attention by displaying promotions!
Internal pages allow for virtually any type of content! Text, pricing info (discounts too), images & image galleries, video & audio, tables, file attachments, CTAs, forms – you name it.
Fully responsive website with blog and contact form.
Once the site is built, you will be able to manage it yourself via an intuitive admin interface. No need for a web designer.
Included in price
The site
3 awesome design variants to choose from. Chosen variant will be edited by a professional designer to reflect your brand!
Site set up and content insertion in up to 8 pages/posts;
Editing of up to 20 images;
Privacy policy + GDPR page;
Cookie policy page & consent pop-up;
Documentation on how to manage your site via an admin interface;
On-site SEO: speed optimization, SEO title and description meta tags.
Server set up
We will choose the right hosting company for you. All you will need to do is to register and pay for the first 6 month / year. Then we will:
Link domain name to hosting space;
Add SSL certificate
Set up 3 email addresses;
You may choose to host with us, as an add-on. In this case you will be renting domain name and server space from our company. Check our add-ons page for details.
Integrations
Implementation of Google Analytics;
Set up of Google Search Console account, submission of XML site map;
See our add-ons page for more integrations.
On demand maintenance and upgrades
You can fully manage your site yourself. But if you prefer to outsource this task, we provide On-demand maintenance and upgrades as prepaid packages of 5 hours at 225€.
---
All prices mentioned on this page are NET amounts and do not include VAT. 19% VAT is applicable for all Romanian companies, individuals (non-business) and non-VAT paying companies in EU. In other cases, VAT is 0%.
Site features
Configurable header & footer:
Header
Your logo, customized menu, contact options (phone, WhatsApp, contact form button).
Footer
Customized menu, copyright, links to social media, subscribe to newsletter (add-on)
Home page modules:
Hero area:
page title, short mission statement, awesome picture.
Free form text area:
carefully crafted mix of images and text.
Services/products boxes:
select what services and/or products to showcase on home page. Optionally display old and currently discounted prices.
Q&A section:
explain your business, write about benefits in a concise manner.
Promotions section: best way to attract customers!
Testimonials section: brag about people loving what you do!
Blog/news excerpts
Home page sections can be hidden or moved around. We will make sure the home page design is special!
What can be inserted as internal page content:
Hero area:
just like on the home page.
Texts:
in one, 2 or several columns.
Price box:
old price, current/discounted price, prefix (e.g. "from just"), VAT info (proces include VAT or not)
CTAs (calls to action)
Images:
we will carefully choose and edit the images to promote your brand and reinforce your message!
Image galleries
Videos or audio:
both local or from YouTube or Vimeo
Social media items:
a tweet, FB post, insta image, etc.
Maps
Files for download
Tables
Intercative functionality:
Blog/news:
an important tool for both keeping in touch with your clients and gaining organic traffic over time. You can choose to accept or close the comments from visitors.
Forms:
a form can be inserted on every page (bottom) or one a selected page of the site.
One form with up to 8 fields is included in price. Fields can be shown/hidden conditionally. Several different forms can be inserted on selected pages (add-on).

Fully responsive website:
The site will render perfectly on any type of device from desktop to smart phone.