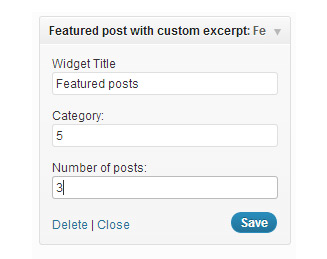 This is a super simple WordPress plugin. It generates a widget that displays posts as title – excerpt – read more link from chosen category. You can control from what category and how many posts to show. I wrote this plugin because existent plugins either generate excerpts for posts automatically, and you can not control what's displayed. Or they are too complex and have some weird formatting:).
To install & set up:
Download zipped plugin.
Go to admin -> Plugins -> Add new.
Upload zip to your site.
Activate.
Go to Appearance ->Widgets section.
Drag Featured Posts with Custom Excerpt widget to the sidebar.
Input category ID and number of posts to diplay.
If you have any questions, leave a comment.