Custom WordPress Web Design
We specialize in custom WordPress design and development. Which means that instead of a dime for a dozen interface that everyone else uses, you will get a unique, fast, stable and fully responsive site that is created especially for you.
Read on to find out more about benefits of having a WordPress website, or skip to see our WordPress portfolio.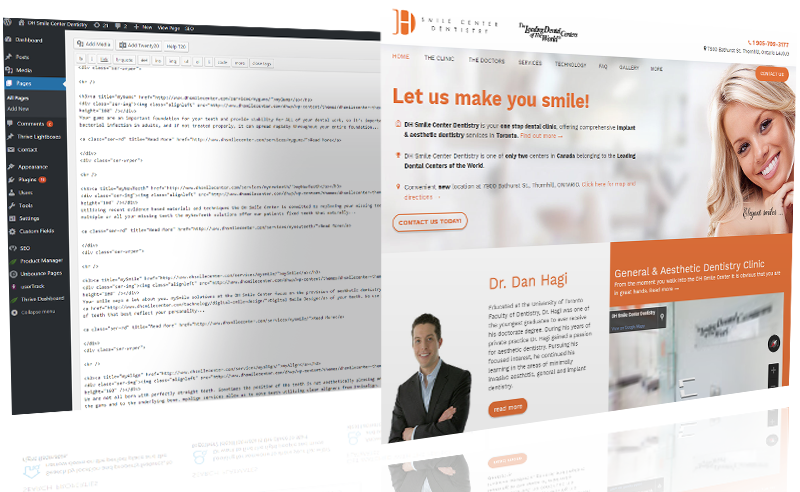 Prowebdesign offers both design of new WordPress websites and redesign of existing WordPress websites. If required, we offer life-long support and maintenance for WordPress websites we have built or re-built.
WordPress is perfect for:
Any kind of presentation, corporate or brochure-ware websites.
Blogs, online news sites, online magazines.
Small to medium businesses that require online bookings or feature events: medical professionals, beauty industry, hospitality businesses, sport events, etc.
Sites in several languages, featuring content that requires to be easily, yet professionally translated.
Small retailers.
Food/catering businesses – with menus and order-online forms.
And many others!
Fun fact:
nearly
30%
of
all
websites on the Internet run on WordPress
Is WordPress website right for you? Contact us today and get a free project evaluation and no obligation free quote!
Get Free Quote!
What are the benefits of having a WordPress website.
Low price of web development
WordPress is an Open Source CMS. This means that the soft itself is free out of the box. You may wonder why you'd need to pay a web developer at all. Free version has a common theme (interface) and minimal functionality. To turn this "raw material" into a proper site that works as YOU want, web developer must first install and configure the basic WordPress entity. And then code a custom theme – an bespoke interface and set of scripts that looks and works as the client expects.
Developer may also add functionality that is not available out of the box: contact forms, bookings, events, fancy design, payment integrations, etc. And still, the price is much lower than if that functionality would have been built from scratch.
Turnkey site that you can manage yourself without the need to pay a webmaster
WordPress is a CMS software. CMS stands for Content Management System. Sites build with CMS have a graphic administration interface that can be accessed by site owner with username and password. Here are just some things that you will be able to do yourself via the site admin:
Add/edit/delete pages or blogs
Add/edit/delete any text anywhere on site
Add/edit/delete media: images, videos, audio, PDF and other document formats
Add and edit data tables, graphs, spreadsheets (additional development required)
Create events/take bookings and use calendars to manage them (additional development required)
Showcase products, receive inquiries via contact forms and even sell online (additional development required)
Translate content of your site in multiple languages (additional development required)
And so much more
Over the years we have worked with many CMS systems. And one by one they failed the ultimate test – user test. Their admin interfaces proved to be difficult for the clients. While WordPress always seemed so intuitive and easy to use, that we often heard our clients say "It's so easy to deal with! It's like a toy".
Access to large pool of web developers and free or low cost plugins.
WordPress is the most popular CMS that ever existed. Which means that you won't be tied to one web development company forever.
Why custom WordPress development?
We are often asked "Why bother and pay for a bespoke WordPress site, when I can get 50 USD theme? " Here's why:
Don't be like everyone else!
50 USD theme will be bought and used by hundreds or thousands of businesses. Do you want to give your visitors an impression that your site is a copy of another site?
Don't hope that the 50 USD theme will actually cost 50 USD!
Every project is unique. Ready-made themes obviously are not built with YOUR project's specifications in mind. Inevitably features will need to be added or altered. Which almost always leads to project costs comparable with building a custom site, but never gives as good results as custom WordPress development. It's like trying to make a cheap ready made suit look bespoke.
Do you need a slow site?
Ready-made themes usually have a lot of features. Their authors try to satisfy as wide a range of clients as possible (which usually never happens). Abundance of features obviously increases the amount of code. This can make a site load much slower than it normally should. And loading speed is paramount! Especially for the mobile devices.
Don't pay twice!
In almost 100% of cases clients who try to save money and use ready-made themes "for a start" are forced to scrape the old site and build a custom WordPress site in 6 to 12 months time. Ready-made site does not allow for future development. While custom development can deliver sites that are scalable and modular, and can be built on without the need for major changes.